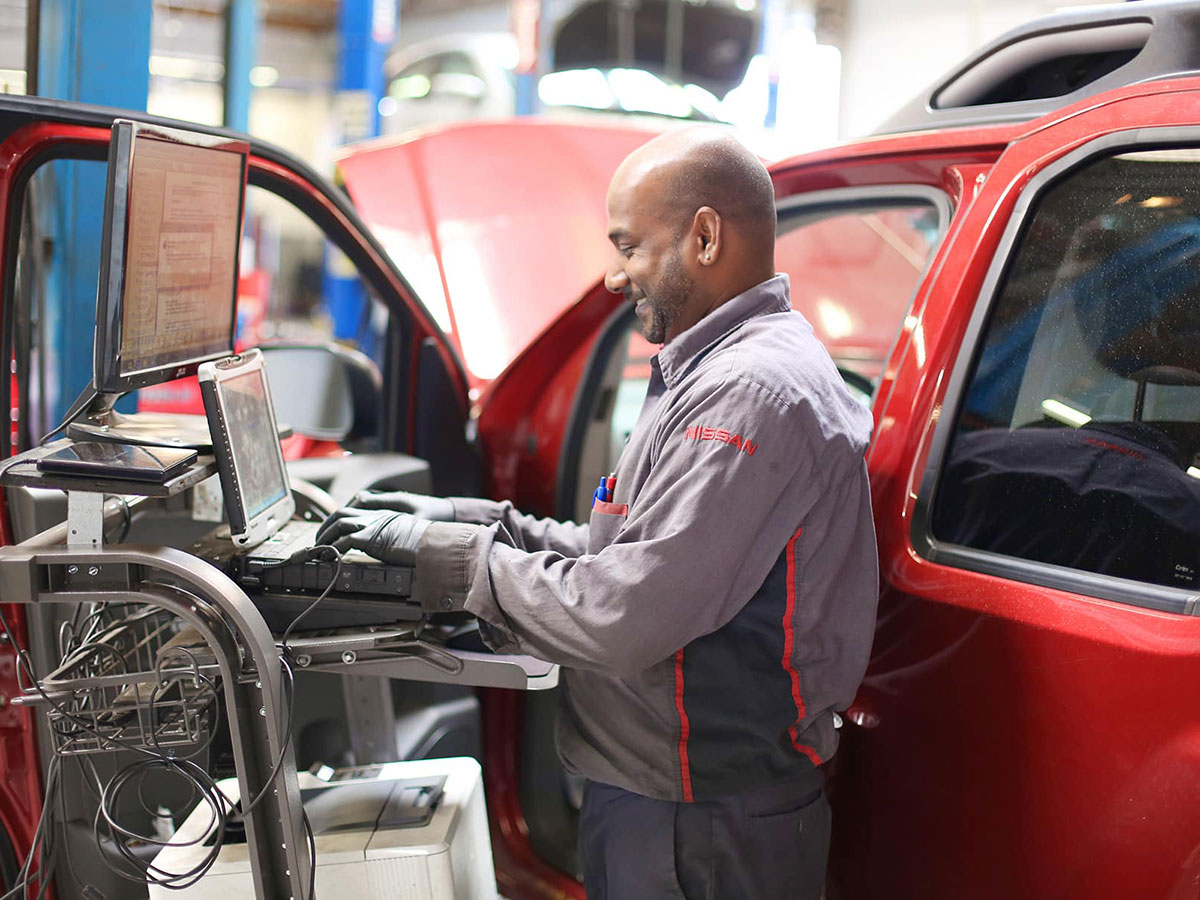 Top-Notch Nissan Service Facility in Bloomberg, NJ
The only way to make sure your Nissan lasts a long time and continues running well is to take good care of it. What this means is you need to find a mechanic you can count on to help you keep up with all the necessary maintenance and repairs. If you care about your Nissan, you need to take it to a state of the art Nissan facility. While everybody knows how important it is to choose a good mechanic, people often choose the wrong shop to take their car to. If you're looking for the best Nissan mechanics in the Bloomfield, NJ, area, Lynnes Nissan City has you covered. With a team of talented mechanics and a state of the art facility, you can always trust us to do things the right way.
Benefits of Choosing a Certified Technician
For a lot of Nissan drivers, a trip to the mechanic means paying a visit to their local jack of all trades. While a smaller mechanic who works on a wide range of makes and models can do things right sometimes, you have to realize that they aren't trained to work on your Nissan. There are some Nissan problems a non-certified mechanic wouldn't even know how to fix. Resources are another thing you have to consider when choosing a mechanic. Even if somebody has a knack for figuring out tough problems, it doesn't do you a lot of good if they don't have the parts or equipment to fix those problems. When you choose a state of the art Nissan facility, you can be sure your mechanic has access to genuine Nissan parts and tools available.
The Lynnes Nissan City Difference
Just because you're taking your Nissan to a mechanic doesn't mean you're doing everything you can to take care of it. If you want the very best mechanic for your Nissan in the Newark, NJ, area, you can't go wrong with Lynnes Nissan City. Not only do we have certified Nissan mechanics that ensure you get the best work, we've got a state of the art facility that includes all the best tools, parts and OEM fluids. If you've got a Nissan LEAF, you can use our certified Nissan LEAF charging station while you're here. We've even got a comfortable waiting area so you can relax while we work.
Dealership Amenities:
Express Service Available
Nissan One-to-One Rewards Program Available
State-Of-The-Art Equipment
Comfortable Waiting Area
Nissan Certified Technicians
Certified Nissan LEAF Service Center w/ Charging Station
---
Lynnes Nissan City
318 Bloomfield Ave,
Bloomfield, NJ 07003
Hours
Service
Monday: 7:30AM – 6:00PM
Tuesday: 7:30AM – 6:00PM
Wednesday: 7:30AM – 6:00PM
Thursday: 7:30AM – 8:00PM
Friday: 7:30AM – 6:00PM
Saturday: 7:30AM – 4:00PM
Sunday: Closed