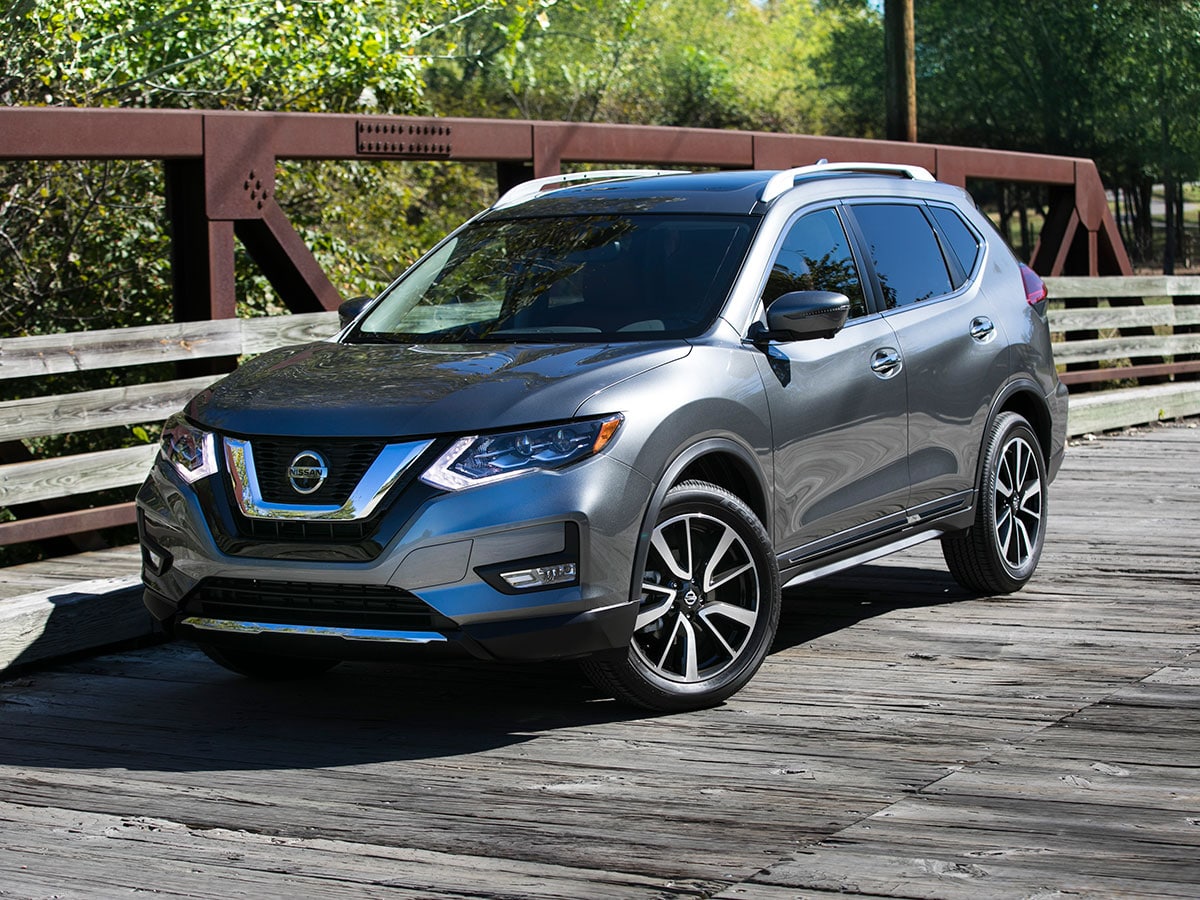 Nissan Rogue Service Bloomfield, NJ
The Nissan Rogue is a popular compact SUV that has won the Consumer Guide Automotive Best Buy Award for five straight years. The single most important way to get the most out of a Rogue is by keeping its primary systems operating at their best with routine maintenances performed at the specified mileage that Nissan recommends.
Rogue Oil Changes
We perform conventional and synthetic oil changes for the Rogue depending upon the model year. The 2019 Rogue model calls for a conventional oil change every 3,000 to 5,000 miles while those with synthetic motor oil need an oil change service every 7,500 to 10,000 miles. Our oil changes include genuine oil filters and engine oil of the highest quality and our service department staffs Nissan certified technicians guaranteed to get the job done right as quickly and as conveniently as possible.
Computerized Wheel Alignment
Our computerized wheel alignment equipment and certified technicians guarantee precision results when performing two-wheel and four-wheel alignment services.
Brakes
Our Nissan certified technicians know the Rogue and its braking system professionally. We do it all at an impressive quality when it comes to the brakes and never cut corners on quality when performing brakes inspection, fluid exchange, pad replacement, or rotor resurfacing or replacement services.
Transmission
The complexities of the transmission system demand something more from service techs and you'll definitely want a certified Nissan service department working on your Rogue's transmission. We perform transmission inspections at the specified mileage and perform transmission fluid exchange when the fluid loses integrity or leaks. If a Rogue has an old blown transmission, we can provide the replacement service efficiently and as hassle-free as possible.
Rogue Tire Center
Here at Lynnes Nissan City, we operate a reliable one-stop Nissan tire center with all of the new tire sales and routine maintenances services that a Rogue will need to get the most out of the tires.
Lynnes Nissan City Rogue Service
When you bought your new or preowned Nissan Rogue, it came with an owner's manual in the glove box containing the routine maintenance schedule and when each maintenance needs to be completed. When a Rogue near Bloomfield is due for a routine oil change, filter replacement, or multi-point inspection services, rest assured that the highest quality services matching the quality the Rogue are readily available at our certified Nissan service department at Lynnes Nissan City in Bloomfield.
Dealership Amenities:
Express Service Available
Nissan One-to-One Rewards Program Available
State-Of-The-Art Equipment
Comfortable Waiting Area
Nissan Certified Technicians
Certified Nissan LEAF Service Center w/ Charging Station
---
Lynnes Nissan City
318 Bloomfield Ave,
Bloomfield, NJ 07003
Hours
Service
Monday: 7:30AM – 6:00PM
Tuesday: 7:30AM – 6:00PM
Wednesday: 7:30AM – 6:00PM
Thursday: 7:30AM – 8:00PM
Friday: 7:30AM – 6:00PM
Saturday: 7:30AM – 4:00PM
Sunday: Closed
Dealer Wallet Service Marketing & Fixed Ops SEO by